Choosing the right business entity allows an entrepreneur to reduce liability exposure, minimize taxes, and ensure that the business can be financed and run efficiently. It also provides business owners with a mechanism for ensuring that the business operations will continue, rather than being automatically terminated, upon the death of an owner. Formalizing the business also clarifies the ownership of all participants in the venture.
When choosing a business entity, you should consider:
The degree to which your personal assets are at risk from liabilities arising from your business.

How to best pursue tax advantages and avoid multiple layers of taxation.

The ability to attract potential investors.

The ability to offer ownership interests to key employees

The costs of operating and maintaining the business entity.
This message is broadcasted with a particular set of pre-determined approaches, so you should approach the subject with the idea that best describes your situation and entity type for business incorporation and choose the right business type for your business. The choice you make will always be different from other person and their business understanding. Each one comes with its own set of pros and cons. Do calculate several factors that apply to your particular business. Always keep in mind your strengths and weakness about various changes like your business over time. These changes may make it more advantageous to change your business entity over time by the tax classification. Having that kept in mind, do look at a few business entities:
The business entity type also depends on the number of owners looking to incorporate the business. A single owner can form a proprietorship, an O.P.C, and a group of people can create a limited liability partnership firm, a Private limited company or can even got for a Section 8 Company. If there are two or more business owners, by definition, it cannot be a sole proprietorship. Still, it can be a private limited company, limited liability company, general partnership, limited partnership, or, in certain situations, a limited liability partnership. Let's discuss them one by one:
Types of Commonly Preferred Business Entities in India:
Private Limited Company Incorporation (PLC)
We at TaxaJ recommend our clients to go for Private Limited company incorporation if they have a great business plan or they seek to have an Angel Investor planning to fund their business.
Number Of Members
There is a requirement of certain number of minimum members for starting a private company. Also, there is a limit to the maximum number of members in a private company. A private company need to have a minimum of 2 members for starting its business. However, it cannot have more than 200 members, this is the maximum limit.
Member's Liability Is Limited
Members of private limited companies enjoy limited liability in the business. The liability of its companies is limited to the number of shares held by them. Member's personal assets or property is not liable to pay off the business losses. In case of losses only shareholder share in company assets is liable for payment.

Minimum Paid-Up Capital
Private companies require certain amount of minimum capital for starting its business. These companies are required to have a minimum of INR 1 lakh as paid up capital. The limit of paid up capital for these companies is prescribed from time to time.
Perpetual Succession
The private limited companies keep on continuing forever. Its life or continuity is not affected by the life of its members. These companies are created by law & are also dissolved by it. Death, insolvency or bankruptcy of any of its members does not affect the life of the business. The business enjoys perpetual succession.

Separate Legal Entity
Private companies are created by law. These companies have a separate legal entity from its owner& shareholders. It is treated as an artificial person & conducts business in its own name. It has its own name, own seal & owns all property in his own name.

Limited Liability Partnership Firm (LLP)
LLP is a comparatively new business entity concept that is perfect for small business or for those who want to save something in terms of compliance cost. This LLP comes with many benefits, such as a lower maintenance cost and less cost of formation.

There is no mandatory auditing required for this sort of entity till you reach a certain point of turnover revenue. It is an advanced version of a partnership firm, and so there exists a legal partnership agreement between the partners. It also benefits being registered on the MCA website, so you and your business are 100% transparent and validated by Govt.
Licensed Professionals Have Some Limited Liability Protection

Limited liability partnerships are partnerships in which the liability of all the partners is limited. Generally the partners in limited liability partnerships are not responsible for the debts, obligations, or liabilities of the partnership resulting from negligence, malpractice or wrongful acts, or misconduct by another partner, employee, or agent of the partnership. However, a partner of a limited liability partnership is liable for other partnership debts and obligations as well as for his or her own negligence, malpractice or wrongful acts, or misconduct, and that of any person under their direct supervision and control.
Ease Like Partnership Firm
LLP has the benefit of post incorporation compliances which are quite minimum as compared to a private limited company, no auditor has to be appointed upto a certain turnover and capital. It has benefits similar to a partnership firm
Benefits Like Private Limited
LLP enjoys benefits like a private limited company of being listed on www.mca.gov.in which provides credibility
One Person (OPC) Private Limited Company
We have a leaders like Narendra Modi who believes "Sabka Saath, Sabka Vikas". But I also love Rabindranath Tagore, who says, "Ekla Chalo Re", which translates to walk alone.
We at Taxaj meet few budding entrepreneurs who have a lot of potential and some fiery business ideas, but they don't get tied up to something or someone. They want to make decisions at their will and gut feeling. For those One man army, this is the best option.
Private Company: Section 3(1)(c) of the Companies Act says that a single person can form a company for any lawful purpose. It further describes OPCs as private companies.
Single-member: OPCs can have only one member or shareholder, unlike other private companies.
Nominee: A unique feature of OPCs that separates it from other kinds of companies is that the sole member of the company has to mention a nominee while registering the company.
No perpetual succession: Since there is only one member in an OPC, his death will result in the nominee choosing or rejecting to become its sole member. This does not happen in other companies as they follow the concept of perpetual succession.
Minimum one director: OPCs need to have minimum one person (the member) as director. They can have a maximum of 15 directors.
No Minimum Paid-up Share Capital Contribution: Companies Act, 2013 has not prescribed any amount as minimum paid-up capital for OPCs.
Special Privileges: OPCs enjoy several privileges and exemptions under the Companies Act that other kinds of companies do not possess.
Section 8 Company Registration (NGO/Trust)
After looking at the irregularities and lack of compliance with almost all Hawker NGO's, govt, decided to put an end to this organised loot by setting up a structured procedure to form NGO in terms of Section 8 Company, which is solely for non-profit works.
Section 8 has all benefits of an NGO or trust in addition to that it is fully transparent and has its credential verified from the MCA website, so everybody knows the current status of the company and its books are also fully compliant,
Incorporate for Social Welfare
This type of company incorporated for charity, social welfare, social promotion, their main aim is to promote social welfare and work for society, not to earn profits. Their main objects depict the reasons for their incorporation, objects are like Sports, Promote commerce, art, science, education, research, social welfare, religion, charity, protection of the environment, or any such other object.

As compared to other companies, section 8 companies don't require any prescribed minimum paid-up share capital.

These types of companies are licensed by the central government under section 8 of the companies act 2013 and these companies work for society and receive a donation from other general public for the welfare work.

Section 8 company also forms as a private limited or public limited company having limited liability. Members of this company have limited liability as per their share subscribed.

This form of company's doesn't issue a dividend to its members, because it is restricted from the law. They cannot distribute their earned profit as dividends to its member; they can use their profit in promoting their business objectives.

Partnership Firm Registration
A partnership is an association of two or more persons carrying on a business venture as co-owners for profit. Next to a sole proprietorship, a general partnership is the easiest entity to form under most state laws. Although a formal written partnership agreement is not required to form a general partnership, the partners should ordinarily set forth the rights and duties in a written document. In the absence of a written agreement, however, when two or more people who engage in a business together and do not specifically choose any other entity type, they will be treated as a general partnership if there is an understanding between them that they will share in profits and losses of the business.

No Personal Liability Protection
Each partner in a partnership has personal liability for the obligations of the partnership. General partnerships are limited in their ability to raise capital from outside investors because of the prospect of potential personal liability and the usually limited market for resale of a general partnership interest.
General Partnerships Enjoy Pass-Through Taxation
One of the advantages of a general partnership is that, like a sole proprietorship, the business is not taxed. Rather, income, losses, and gains are passed through to the general partners by the allocations provided in the partnership agreement. A particular advantage to this form of business is that the partners can agree on how income, losses, and gains are divided among the partners.
Proprietorship Firm Registration
Sole Proprietorship is a Simple Type of Business owned by a single person. It has no legal distinction from the owner. Usually, a proprietorship firm requires no governmental filing or registration other than a fictitious business name statement ("DBA") if the owner is doing business in any name other than a personal name by applying any basic registration such as GST or MSME.
A sole proprietorship is the most common & easiest form of business model because it is very simple to start and avoids the operating expenses required for other legal entities such as corporations and limited liability companies.

No Personal Liability Protection

Because there is no legal distinction between the owner and the business, a sole proprietor is personally liable for all the debts and obligations of the business. It also means that on the owner's death, the business enterprise terminates, leaving only the assets of the business such as equipment, accounts receivable, and real property. Because the assets used in the business are not separated from the other assets of the business owner, it may be challenging to sell the business as a whole after the death of the sole proprietor.

No Double Taxation Concern
For tax purposes, there is no distinction between the sole proprietor and the business. All income and expenses of the business are reported on the sole proprietor's tax return. This means that the net income from the business is taxed only once.

Ease of Registration & Compliance
Registering a proprietorship firm is quite easy and post incorporation compliances are also not much complicated.
How to choose the right business entity for your Start Up?
Starting a new business follows a long to-do list. As you master your business part, I want to discuss a crucial part of this setup – choosing the right business structure. Checkout the main business structures in India.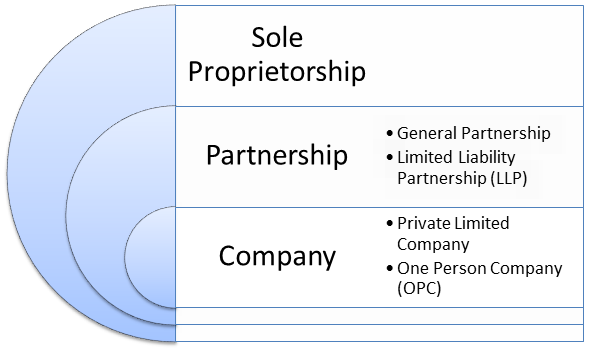 To choose one from various structures can be a daunting task. But, the clarity about the vision and scale of business makes this choice easier. You must know the level of control you want, the level of compliance you will be able to follow, the amount of investment you will require, and more.
The business structure significantly affects the success path of your business. Even if you could change it later, you must make a wise choice in the first place. You need to visit and revisit many factors that determine the right business structure. Here are such factors explained:
Number of Owners
Your options are filtered with this point. Here is a simple classification of structures based on the number of owners.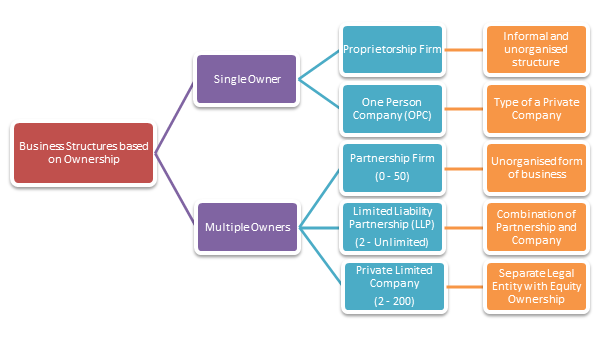 Level of liability and personal risk
The level of risk is associated with the activity and scale of business. Owners would want to protect their personal risk when associated risk is higher. The right business structure can surely reduce the personal risk of the owner. When opted for partnerships, the risk is divided among many partners. Further, Companies and LLP fully protect the liability of the owners with few exceptions. Therefore, a sole owner looking for limiting personal risk may opt for One Person Company.
Control over business decisions
Owners surely desire to hold control over business decisions. The partnership again divides the control among many partners. A partnership offers flexibility. Therefore, partners can decide different rights and responsibilities of all.
In companies, the director(s) have direct control over operational transactions. And for this reason, in most of the Private Companies, the shareholder and directors are same. This works in OPC as well.
You can plan your level of control with your consultant in your preferred structure. But, you can get undivided control only in proprietorship.
Ability to raise or borrow money
If the business is aimed at having a high growth rate requires large funds at various stages. A business itself may not raise all the money on its own. Therefore, the ability to attract investors or to receive loans is very important. Investors and banks prefer to lend their money to more structured entities, as these businesses tend to be safer investments. VCs and Angel Investors tend to prefer Private Companies to invest because of equity ownership.
Registration and maintenance costs
The registration cost in most cases is very similar. However, Proprietorship firms are easy and inexpensive to form. As registration is a one-time cost, you should focus on maintenance cost. It majorly includes the cost of compliance. The compliance level in a company is the highest, followed by an LLP. Continuous and event-based compliance are provided under law. However, you might want to compromise on cost for the benefits offered by a specific structure.
Credibility
Companies and LLP are more credible structures. Professional certification and centralized registration offer them higher credibility. Further, the financial and other data are accessible to the public. Therefore, third parties could easily rely on such structures. But, a structure like a sole proprietorship has very little credibility of its own. Rather it is dependent on the owner's credibility.
Continuity of existence
Businesses heavily depend on promoters. But, it affects the survival of the business. For new businesses, it may not be much important. However, it is surely important in long term, especially, for funding. Investment agencies prefer business continuity for a safer investment. It is best offered by Companies and LLPs. Businesses at the pilot stage can choose an informal structure that is easy to convert later.
Taxation Structure
There is a defined tax structure for each form. Some structures being separate legal entities are taxed directly. Such as Company and LLP. Partnership firm is also a different entity for tax purpose. All these forms attract 30% basic tax (except small company @25%). Income of a Proprietorship firm is taxed in a slab of 5 to 30% post basic exemption limit. You must understand the tax structure of any form to best plan the tax liabilities.
Privacy of documents

Certain business structures require to make all documents part of the public record, accessible to all. While documents in the company are fully accessible to the public, LLP Agreement remains private. If you wish not to disclose the details of your business, choose the structure of your business carefully.

These factors should all be weighed comparing different business structures for the business. There is no perfect company structure that can guarantee perfection in all of these factors. However, if you can prioritise the factors most important to you, you can choose the structure that fits the needs of your business the best. If you find any difficulties finding the right business structure, feel free to connect with TAXAJ experts.