Some call us

'Digitally Pro'

Tax Consulting Firm others call us

'Financial Doctors'



TAXAJ's Digital accounting software manages your finances, keeps you GST compliant, automates business workflows, and helps you work collectively across departments. In addition, our Digital Accounting system enables the client to have the edge over their competitors in terms of books of accounts.

It has been considered that "Accounting is the language of business." The forever-evolving digital technologies of accounting will affect the future of financial & tax professionals in specific ways that have not yet been imagined. Digital accounting refers to forming, representing, accounting, and transmitting financial data in an electronic & digital format. Computers and digital accounting software have transformed the financial & accounting industry. Technology advancements have enhanced the accountant's ability & efficiency to interpret and report data faster, more efficiently and more effectively than ever before.
The most significant benefits of the digital age of accounting to productivity can be organised into four main categories such as E-Business, Cloud Computing, Enterprise Resource Planning (ERP) Systems and Digital Technology Advancements.
E-Business & Accounting
Electronic business & Accounting processes allow team members to coordinate activities for internal management and combine the client's information with a financial professional's data via digital networks. Enterprise applications can be shared via internal and external networks called Intranets and Extranets. These technologies distribute information through a single point of access, such as a Web interface using the highest level of encryption security standards available.
Cloud Computing
Software-as-a-service (Saas) provides the core of the cloud computing experience. More and more companies are creating custom platforms to facilitate data access via all kinds of mobile devices. The ability to access information at any time from anywhere is now imperative.
Enterprise Resource Planning (ERP)
ERP systems are software programs that bring different departments in an organization into the same collaborative environment. They make information available from diverse groups and support activities from multiple locations.
Data is accessed through a central database and shared from different functions such as accounting, finance, marketing, human resources and manufacturing. ERP improves business performance by allowing management to get a full three-hundred-sixty-degree view of how a business performs in real-time. This is a massive advantage in making significant business decisions with increased accuracy, reliability and speed.
Digital Technology Advancements
Easily accessible and retrievable data characterize the nature of digital accounting systems through the utilization of integrated systems, real-time reporting and ongoing development.
New technologies in digital accounting are designed to fulfil an overwhelming pressure for "data on demand." Smartphones, Apps and Social Media are the primary conduits for this process. Constant advancements allow financial professionals to spend more time advising clients and developing strategies than simply generating financial reports.
How We Can Help You
TAXAJ provides professional services that keep your business focused on your critical objectives. We provide strategic Accounting and Human Resource (HR) services explicitly created to help you meet your goals. Through exemplary customer service, clearly defined policies and procedures as well as a forward-looking perspective, we provide the outsourced solutions your business needs to grow. A TAXAJ professional is happy to meet with you to discuss solutions for your unique requirements designed to maximize all of your business opportunities.
Digital Accounting is the Future, Know Why?

Online GST Accounting Software, this Digital accounting tool is a catalyst for your business.
Click on each tab to view the template page. It will give you in depth experience about the practical use of user friendly interfaces.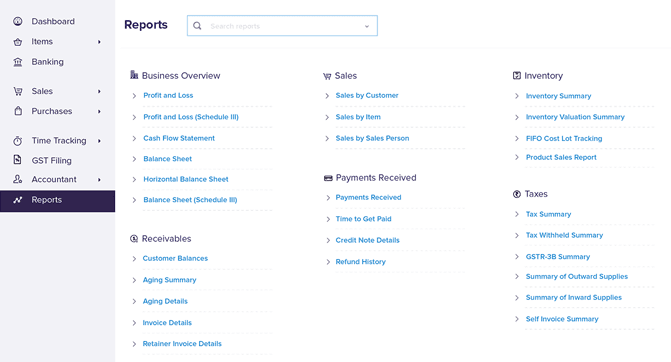 TAXAJ supports 50+ business reports to help you get better insight into your business health. From Profit and Loss statements and Inventory Summary reports to GST reports, TAXAJ offers all the reports required to run your business smoothly.
Schedule reports and email them to yourself or share them with your team

Get a business overview with your custom dashboard

Customise reports and filter the data further for better insights
Here's how TAXAJ keeps your business GST compliant
Switch to smart accounting software. Switch to TAXAJ.
Benefits of Digital Accounting
The digital accounting software market is expected to grow at an expansion rate of 8.6 per cent per year starting from 2018. According to the latest market research by Accounting Today, it will likely have a global value of $11.8 billion by 2026. Accounting firms increasingly leverage the new-age accounting software to automate time-consuming and repetitive tasks and redefine existing business processes. They are switching from conventional accounting software to emerging technology innovations. Talking about micro, small, and medium enterprises & businesses, they play a significant role in building a nation's economy. Therefore, it is essential to restructure them where digital transformation & marketing can play a significant role. As digital accounting has remarkably upgraded accountancy and brought in various benefits for businesses & start-ups performing accounting operations, it's more important than ever for companies to adopt digital accounting in a usual manner. It will make their accounting processes more efficient by planning strategically, organizing, and adequately channelizing their financial strategies.
The Age of Digital Solutions
Technology is transforming the core operational areas of organizations, such as the value-added supply chain and the central functions, including human resources, payroll, finance, and purchasing. Moreover, disruption & adaptation is also seen in systems and processes in accounting at a very rapid pace. The significant advancements brought by the latest technology are e-business, Enterprise Resource Planning (ERP), and cloud computing. Further, the digital tools are helping Chartered Accountants carry out their tasks effortlessly, accurately, and in quite minimum time.
Some of these tasks are bulk replication & updation of vouchers, bulk creation of vouchers, complete GST summarised overview, voucher auditing, finding minimum/maximum cash balance in a year, amount-wise sorting of coupons, and much more. These tasks are made smooth by various digital solutions such as data quality management, paperless accounting, creation of transparency, real-time reporting, real-time accessibility, uniformity of systems, extensive data analysis, cloud computing, etc.
Here's why an organization must adopt accounting tools: